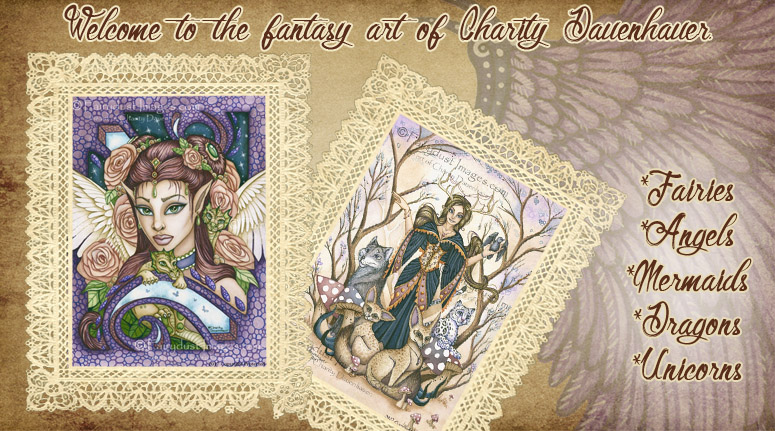 Here you will find the world of whimsical things. It is from the imagination of Charity Dauenhauer that brings these magical creatures to you. You will find beautifully printed fine art prints of fairies, angels, mermaids, unicorns, dragons, fantasy creatures and a great selection of enchanted gifts direct from the artist.
News Updates
10/13/2016 ... I am home from Michigan and making and shipping out orders! Thank you guys for your patience during that time.
10/5/2016... I am on my way back home to Florida from the Michigan Renaissance Festival. I want to thank everyone that came out to see me this season. Thank you for your support and love for my art. I am truly blessed!
Please keep in mind, while I am heading back home, that all orders that are place on 10/5/2016 through 10/11/2016 will have a short delay on shipping. As we have been watching the news, hurricane Matthew looks like it will be making it's way to Florida. With this said, this will delay shipping too. So please allow me up to two weeks before your item ships out. Thank you for your understanding.
8/01/2016 ... Off to Michigan for the Michigan Renaissance Festival! Got to get there early to get everything set up. During this time, any orders placed on 8/01/16 through 8/07/16 will have a short delay with shipping. So please keep that in mind if you place an order. Thank you for your patience.
7/26/2016 ... I am getting ready for the Michigan Renaissance Festival. I will be leaving in a few days. This event starts August 20th, 2016 and ends October 2nd, 2016. I will be attending this event every weekend! So, come and see me to say hello. I will have my latest art work with me and a lot of new goodies! I am looking forward to seeing you. To learn more about this event, please visit http://www.michrenfestnew.michrenfest.com/#! for more info.
What you will find along the way!